St Patrick for Ireland
© 2007 Armchair Travel Co. Ltd. - This page may be used for non-commercial purposes ONLY!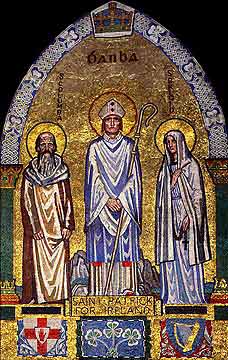 [ Play Narrated and Animated Movie ! ]
[ Virtual Tour ] [ Main Topics Index ]





St Patrick stands with his hands clasped. Behind him the Rock of Cashel, one of Ireland's earliest and holiest Christian sites. The word Banba written above his head is the Erse for Ireland. St Patrick is flanked by St Brigid, with an Irish harp at her feet, and St Columba, representing the North of Ireland. At his feet is a shield with the Red Hand of Ulster.



Additional Information on
St Patrick for Ireland

Unfortunate experiences with frescoes at the Palace of Westminster led the Fine Arts Commissioners to change their original plan, and commission mosaics for the four patron saints in the Central Lobby. Interest in mosaics in the 19th Century had been growing, fuelled by the enthusiasm of Dr Salviati, the man responsible for restoring the mosaics at St Mark's in Venice.
Dr Salviati's firm was then commissioned by the Fine Arts Commission to undertake the implementation of mosaics in Central Lobby - from the designs of Sir Edward Poynter (1836-1919). Saint George and Saint David were installed in 1869.
However, by the 1920s the decoration of the Central Lobby had fallen into abeyance, and Dr Salviati had died. So the commission for the remaining two Patron Saints was awarded to Robert Anning Bell (1863-1933), who was also responsible for two large mosaics in St Stephen's Hall. Bell worked on the spot, rather than in the studio, and the mosaics of Saint Andrew and Saint Patrick were finally unveiled in 1923.
Explore-Parliament.net: Advanced Category Search
Keyword Categories:
_Object_Mosaic
_Object_Artwork
_Object_Portrait
_Saint
_Man
_Person
_Consort
_StPatrick