The last sleep of Argyll
© 2007 Armchair Travel Co. Ltd. - This page may be used for non-commercial purposes ONLY!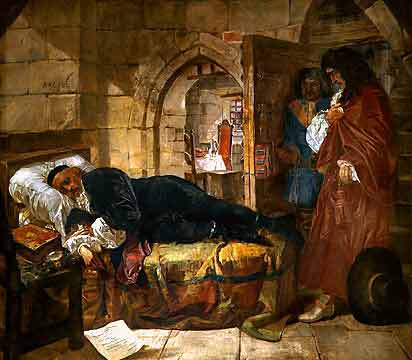 [ Play Narrated and Animated Movie ! ]
[ Virtual Tour ] [ Main Topics Index ]





In 1685, the first year of the reign of James II of England and VII of Scotland, the Monmouth Rebellion in England was almost simultaneous with a rising in Scotland under Archibald, 9th earl of Argyll. He was captured and confined in a room at Edinburgh Castle. There, on the morning of his execution, one of the Lords of the Council, responsible for his sentence, came to see him. This man had been on the same side as Argyll, but had changed over to the winning side.
When the door was opened, he saw Argyll sleeping like a child, though he was within an hour of eternity. The renegade, in an agony of remorse, rushed out of the castle.
Ward has shown in the foreground a paper, showing a poem, written by Argyll in his last moments:
On my attempt though Providence did frown,
My oppressed people God at last shall own.
Another hand, by more successive speed,
Shall raise the remnant, bruise the serpent's head.
Written this last night of my mortal life, Argyll, 12th June 1685.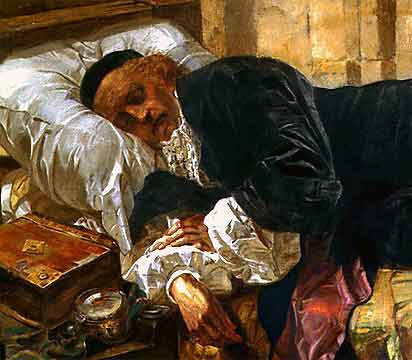 Explore-Parliament.net: Advanced Category Search
Keyword Categories:
_Setting_Scotland
_Object_Painting
_Object_Artwork
_Event_Historical
_Peer
_Man
_Person
_Artist_Ward
_Argyll