The Parliamentary Union of England and Scotland
© 2007 Armchair Travel Co. Ltd. - This page may be used for non-commercial purposes ONLY!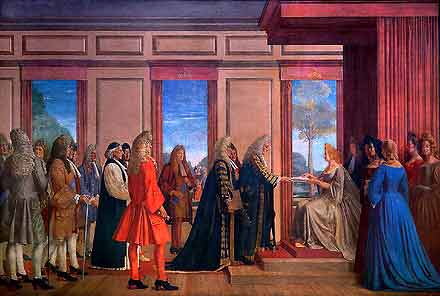 [ Play Narrated and Animated Movie ! ]
[ Virtual Tour ] [ Main Topics Index ]





The scene is St James's Palace in 1707. On the right, Queen Anne, enthroned beneath a simple canopy, receives from the English and Scottish Commissioners the Articles of Agreement for the parliamentary union of the two countries.
Since the accession of James I of England (VI of Scotland), a hundred years earlier, England and Scotland had been ruled under one monarch: but their institutions had remained quite separate, and each country had had its own Parliament. Now, in order to secure the Protestant succession which had come about under the revolution of 1688, England felt the need to guard against the recall of the Catholic Stuarts to Scotland. At the same time, the Scots knew that Union with England would increase their trade and prosperity, by admitting them to the jealously-protected English markets.
It was a sacrifice for the Scots to give up their own Parliament. Henceforth they would elect forty-five members to sit in the Commons, while sixteen Scottish peers would sit in the House of Lords. They only consented on condition that the sovereign take an oath to uphold the Presbyterian Church in Scotland.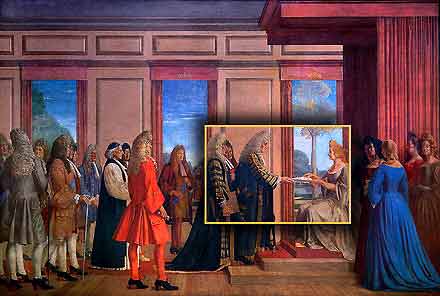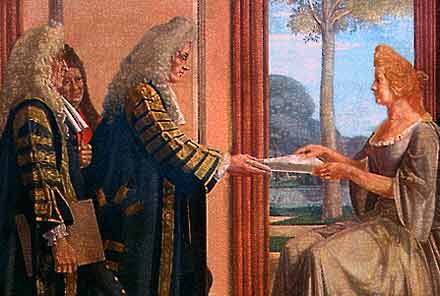 Additional Information on
The Parliamentary Union of England and Scotland

This is one of eight monumental canvases commissioned in 1927 to fill the vacant spaces on the walls of St Stephen's Hall. The idea of this scheme was conceived by a committee including Lord Peel, Lord Crawford (Chairman of the Fine Arts Commission) and the Speaker of the House of Commons - at that time J.H. Whitley. The subjectmatter and artists were chosen by Sir Henry Newbolt, the unifying theme being 'The Building of Britain', during the eight centuries from King Alfred to Queen Anne. The result is an unusual attempt to produce in the 1920s High Art of the sort which was understood by the Victorian artists of the 19th-century Palace, of Westminster, but which was no longer popular or perhaps well understood.
Explore-Parliament.net: Advanced Category Search
Keyword Categories:
_Setting_London
_Setting_England
_Object_Painting
_Object_Artwork
_Event_Historical
_Artist_Monnington
_Queen
_Royal_Family
_Woman
_Person
_Union