The Throne
© 2007 Armchair Travel Co. Ltd. - This page may be used for non-commercial purposes ONLY!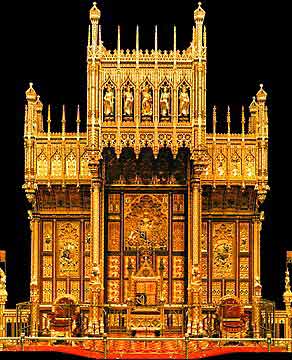 [ Play Narrated and Animated Movie ! ]
[ Virtual Tour ] [ Main Topics Index ]





This is the principal throne of the Palace of Westminster designed by A.W. Pugin for ceremonial use, and in particular for the official opening of the House of Lords in April 1847.
At the State Opening of Parliament the brass rails are removed, and the Sovereign occupies the throne in the central of the three compartments. The form of the throne was modelled by Pugin on the medieval Coronation Chair in Westminster Abbey. It is surmounted by a gilt crown - emblematic of the status of Royalty seated there above all others in the room. Two gilded statuettes of angels flank the compartment, each bearing a heraldic shield, and on the canopy above stand St George and four knights holding the symbols of the four principal orders of chivalry. Pugin was directly responsible for this rich heraldic decoration, a celebration of medieval ceremony and ritual.
The compartment to the sovereign's right bears the arms of the Prince of Wales. This is where the heir to the throne sits in a chair of state, beneath carved decoration on the canopy above of the Prince of Wales' feathers. The other side was originally designed for Prince Albert, the Prince Consort, and is now occupied by the Princess Royal, if she is present. She sits on a gilt x-frame chair of state upholstered in scarlet velvet. The original throne for Queen Victoria and the two chairs of state were made by John Webb, as was all the important furniture made for the House of Lords before Pugin's death.
A second slightly smaller throne, made for Queen Alexandra in 1901, is installed alongside the principle throne in the central compartment when the Duke of Edinburgh is present.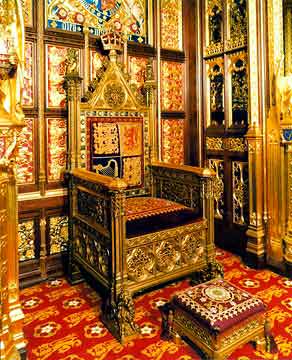 Explore-Parliament.net: Advanced Category Search
Keyword Categories:
_Object_Furniture
_Artist_Pugin
_Topic_Coats_of_Arms
_Throne