David Lloyd George, 1st Earl of Dwyfor (1863-1945)
Coalition Prime Minister 1916-1922
© 2007 Armchair Travel Co. Ltd. - This page may be used for non-commercial purposes ONLY!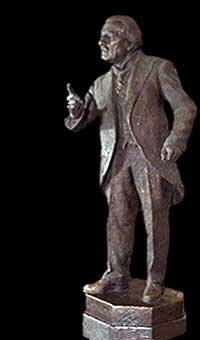 [ Play Narrated and Animated Movie ! ]
[ Virtual Tour ] [ Main Topics Index ]





It was Sir Winston Churchill who proposed that Lloyd George should be commemorated in a statue here. The original commission was given in 1955 to Sir Jacob Epstein, for a statue in stone. Epstein died in 1959, with the sculpture unfinished; whereupon the commission was changed to one for a bronze, to be made by Uli Nimptsch. A diminutive figure, with blazing blue eyes, Lloyd George was given a plinth by Nimptsch, so as to bring him closer to the height of the Churchill statue which it faces across the entrance of the Commons Chamber.

D is incapable of achieving anything, without reducing all round him to nervous wrecks. In this way he distributes his own nerves in a crisis, and, I believe, saves himself in the process. I always used to think it was an unnecessary bother..., but now I perceive the more subtle psychology of it, and realise that it is necessary for him to produce this state of enervation in everyone else, in order that he himself may derive some sort of nervous energy which fortifies him.
- Frances Stevenson, Diary, 1934.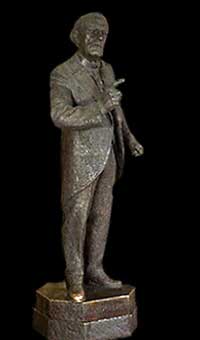 Additional Information on
David Lloyd George, 1st Earl of Dwyfor (1863-1945)
Coalition Prime Minister 1916-1922

It has been said that David Lloyd George was a 'fiery little Welshman' who became a legend in his own lifetime. He was the son of William George a Welsh schoolmaster, and was brought up by his mother in Caernarvonshire. He began his career working for a firm of solicitors in Portmadoc, under a prominent local Liberal. From this point on he became very active in local Welsh politics.
In 1890 Lloyd George was invited to stand as the Liberal candidate for Caernarvon, he won the seat and was thus elected to Parliament. His witty and sharp comments soon earned him respect and the nickname 'The Welsh Wizard'. His somewhat radical opposition to the Boer War could not have failed to go unnoticed and by the end of the war Lloyd George was well and truly known by all. He was admired by the public because of his working class ethic.
When the new Liberal government came to power in 1905 Lloyd George was appointed to the cabinet position of President of the Board of Trade. Three years later, with Asquith the new Prime Minister, Lloyd George was made Chancellor of the Exchequer. In 1909 Lloyd George introduced his first budget, a 'war budget' as he called it - waging war on the upper classes in order to aid the poverty stricken. His plan was, in short, to bleed the rich through land taxation, death duties, super tax etc. and give to the poor in the form of old age pensions, building roads, parks, labour exchanges - ie. social reform. However, there was uproar in the Commons and Lords at the suggestion, and it was voted down. After a somewhat stormy ride the bill was eventually passed in 1910 with the Parliament Act passed in 1911, restricting the power of the Lords' veto. In 1912 another of his now famous bills was issued - the National Insurance Bill, which made insurance against sickness and unemployment compulsory for workers. This is how he earned his reputation as a great social reformer, and firmly established the British Welfare State begun by Asquith.
In August 1914 Britain declared war on Germany, and Lloyd George as Chancellor had to secure the credit for the operation. He launched various schemes to bring in revenue, and closed the stock market to stop any panic selling of shares. In 1915 he persuaded Asquith to set up the Munitions Committee and a few weeks later Asquith formed his coalition government. Lloyd George left the treasury to become First Minister for Munitions - this became the world's largest industrial concern. Lloyd George also made it possible for women to join the workforce for the first time. Before long, soldiers had all the ammunition they needed. On the death of Lord Kitchener in 1916, Lloyd George was made Secretary of State for War.
Lloyd George had disapproved of the way Asquith was running the war effort and proposed that he set up a war cabinet led by a more efficient wartime leader, leaving the Prime Minister in charge of running the country. Asquith agreed to the proposal but was attacked by the Press, and so withdrew his agreement, and as a result Lloyd George resigned. However, the war situation worsened and Asquith himself resigned and Lloyd George became the next Prime Minister of a Coalition government (1916) - the first Welsh Prime Minister.
Lloyd George proved his capabilities as a war leader without effort - in fact he proved to be the finest war leader since Chatham. He worked towards a unified Allied command under a small but very efficient war cabinet. He also set up ministries of Food, Shipping, Air, Labour and Pensions as well as introducing National Service - all measures to maintain British strength in an effort to win the war. When Germany surrendered in November 1918 the country was jubilant and the people hailed Lloyd George as the victor. The king bestowed on him the Order of Merit, and France the Legion of Honour, among many other awards from other countries. In the general election of 1918 the Coalition won an overwhelming majority. Later that year Lloyd George, Woodrow Wilson (United States of America), Clemenceau (France) and Orlando (Italy) worked to form peace in Europe and signed the Treaty of Versailles. Problems at home with Sinn Fein uprisings led to the freedom of Southern Ireland being granted in December 1921. In 1922 the Conservative contingent pulled out of the coalition and Lloyd George resigned. He was reelected to Parliament as the leader of the opposition until 1931. He was made an earl in 1945 after fifty-five years in Parliament. He died in 1945 aged 82.

QUOTATIONS
He couldn't see a belt without hitting below it.
- Margot, Lady Asquith, Autobiography.
The little Welshman is peppery, but he means to win - which is what matters!
- Lord Kitchener, in Sir George Arthur, Life of Lord Kitchener.
He did not seem to care which way he travelled providing he was in the driver's seat.
- Lord Beaverbrook, Decline and Fall of Lloyd George.
There are no credentials. They do not even need a medical certificate. They need not be sound either in body or mind. They only require a certificate of birth - just to prove that they are first of the litter. You would not choose a spaniel on these principles.
- Himself, Budget Speech 1909.
This war, like the next war, is a war to end war.
- Himself, on war, 1916.
Explore-Parliament.net: Advanced Category Search
Keyword Categories:
_Object_Sculpture
_Object_Artwork
_Object_Portrait
_Artist_Nimptsch
_Consort
_Man
_Person
_Politician
_Peer
_Lloyd_George