Stafford Henry Northcote, 1st Earl of Iddesleigh (1818-1887)
© 2007 Armchair Travel Co. Ltd. - This page may be used for non-commercial purposes ONLY!


[ Play Narrated and Animated Movie ! ]
[ Virtual Tour ] [ Main Topics Index ]





Argue as you please, you are nowhere if that grand old man, the Prime Minister [Gladstone] insists on the other thing.
- Speech, Liverpool, 12th April 1882.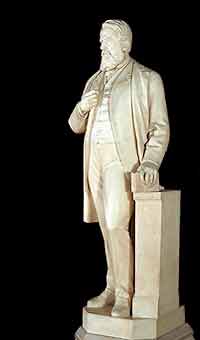 Additional Information on
Stafford Henry Northcote, 1st Earl of Iddesleigh (1818-1887)

Sir Stafford Henry Northcote was the eldest son of Henry Stafford Northcote (1792-1851). He was called to the Bar in 1840. However, in 1842 he entered Parliament as the Private Secretary to William Gladstone, and soon became the Vice-President of the Board of Trade. In January 1850 Northcote was appointed as one of the secretaries for the Great Exhibition, and it is said that Prince Albert thought very highly of him. In 1851 Northcote succeeded to his baronetcy on the death of his father and grandfather. In 1851 he took the seat for Dudley, and in 1858 the seat for Stamford. Together with Lord Salisbury, Northcote became a recognised opposition speaker. Disraeli claimed that one of Northcote's speeches on duty taxation during this sitting was one of the finest he had ever heard.
In the third Derby government (1866) Northcote became President of the Board of Trade and sat in the cabinet for the first time. He sided with Disraeli on questions of reform. In 1867 Northcote became Secretary for India, and was present at the opening of the Suez Canal in 1869.
In Disraeli's ministry of 1874 Northcote was appointed as Chancellor of the Exchequer. He successfully reduced the national debt and was much admired by Disraeli. In 1876 when Disraeli was elevated to peerage, Northcote took over as the leader of the House of Commons. He was instrumental in securing a great deal of foreign policy during this period. On the fall of Gladstone's government in 1885 Northcote accepted office as First Lord of the Treasury because the opposition became dissatisfied with his leadership. In the same year he took his seat in the Lords as the Earl of Iddesleigh. On the formation of Salisbury's second ministry in 1886 Northcote was appointed as Foreign Secretary.
In January 1887 Northcote had an attack of syncope (faint) in the antechamber of 10 Downing Street. He died a rather dramatic death in the presence of cabinet ministers including Lord Salisbury.
Explore-Parliament.net: Advanced Category Search
Keyword Categories:
_Object_Portrait
_Object_Artwork
_Object_Sculpture
_Artist_Boehm
_Peer
_Man
_Person
_Politician
_Northcote