The Death of Sir Philip Sidney
© 2007 Armchair Travel Co. Ltd. - This page may be used for non-commercial purposes ONLY!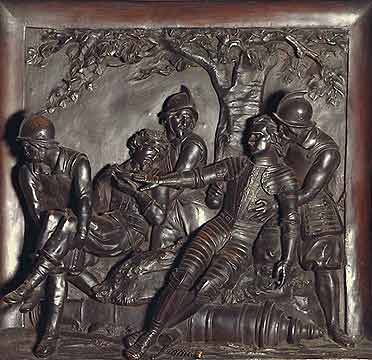 [ Play Narrated and Animated Movie ! ]
[ Virtual Tour ] [ Main Topics Index ]





Poet, scholar and soldier, Sidney is remembered less for what he achieved than for what he was. His poems remained unpublished in his lifetime, though, circulating in manuscript, they had a deep influence on the age. He was a passionate believer in the Protestant church, and his death at Zutphen in Holland in 1586, which this panel shows, came about because he had been despatched to aid the Protestant Netherlanders in their attempts to free themselves from the yoke of Catholic Spain.
Because his commander was wearing no leg-armour, Sidney quixotically chose to wear none either - and it was a wound in his leg which brought about his death. The panel shows the scene, which was to become famous throughout Europe as an example of chivalry. As he lay wounded, Sidney saw that a soldier near him was dying, and he passed his own supply of water to him.
Thy necessity is yet greater than mine.
- Sir Philip Sidney: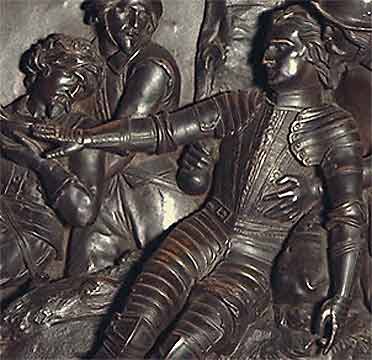 Explore-Parliament.net: Advanced Category Search
Keyword Categories:
_Setting_Holland
_Object_Relief
_Object_Artwork
_Event_Historical
_Artist_Theed
_Man
_Person
_Sidney