Catherine of Aragon pleading
© 2007 Armchair Travel Co. Ltd. - This page may be used for non-commercial purposes ONLY!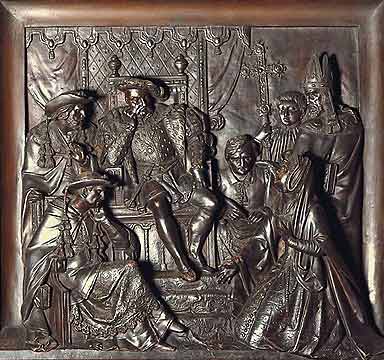 [ Play Narrated and Animated Movie ! ]
[ Virtual Tour ] [ Main Topics Index ]





When Henry VIII decided to divorce his wife Catherine of Aragon, there followed a long and bitter battle. Henry's proposal for divorce was based on the fact that Catherine had previously been married to his brother Arthur, which, he claimed, rendered his marriage to her invalid. This scene represents Catherine's plea to Henry not to proceed with the divorce, whilst the Papal Legates, sent by the Pope to oversee the proceedings, look on.
I take God and all the world to witness that I have been to you a true, humble and obedient wife.
- Catherine.
Explore-Parliament.net: Advanced Category Search
Keyword Categories:
_Setting_London
_Setting_England
_Event_Historical
_Object_Relief
_Object_Artwork
_Artist_Theed
_King
_Royal_Family
_Man
_Person
_Queen
_Woman
_Consort
_Catherine_of_Aragon