Joseph Chamberlain (1836-1914)
© 2007 Armchair Travel Co. Ltd. - This page may be used for non-commercial purposes ONLY!


[ Play Narrated and Animated Movie ! ]
[ Virtual Tour ] [ Main Topics Index ]





This statue of Joseph Chamberlain, with an orchid in his buttonhole, was formerly in the Members' Lobby, and exchanged places with that of Disraeli in 1990.
Dangerous as an enemy, untrustworthy as a friend, but fatal as a colleague.
- Sir Hercules Robinson.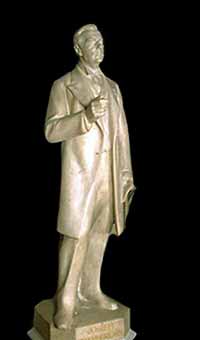 Additional Information on
Joseph Chamberlain (1836-1914)

Joseph Chamberlain entered the family business at the young age of sixteen. He soon became a highly prosperous manufacturer, and so was able to retire as a very wealthy man at only thirty-eight years of age, amassing a fortune of £100,000. His political career began in 1873 when he was elected as the mayor of Birmingham, where he is remembered for his acts of social reform e.g. the clearance of the slums.
In 1876 Chamberlain entered Parliament as a Liberal member, and before long was made President of the Board of Trade in Gladstone's second cabinet. This position introduced him to Imperial Policy, and he soon became a staunch imperialist. His interest in this field led him to advocate partial home rule for Ireland. However, this pleased neither the Prime Minister nor the Irish and so when in 1886 the issue came to a vote in the Commons, Chamberlain handed in his resignation and joined with other dissident Liberals (Liberal Unionists) whose objective was to defeat the government.
Chamberlain gradually turned towards the Conservative party, because they were actually successful in bringing about some of the social reform he so desired. When Chamberlain next assumed a position of power, he did so as Secretary of State for the Colonies in Salisbury's Conservative cabinet. Chamberlain's main concern was the development of British Imperial policy, and he was instrumental in the handling of South African affairs prior to the Boer War, and encouraging Rhodes in his endeavours. Following the war he became the first Secretary of State to visit the South African colonies.
In 1903 Chamberlain resigned his post to devote his time to the promotion of a scheme of tariff reform, which was surprisingly far ahead of its time, and served to pinpoint the direction that the policy would take in this century. Unfortunately, in 1906 Chamberlain suffered a paralytic stroke, thereafter remaining an invalid until his death in 1914.

QUOTATIONS
His characteristic sally was the sneer, delivered with a poker face broken by a distinct curl of the lip.
- Richard Jay, Joseph Chamberlain: A Political Study.
Chamberlain had energy without principle. His aim was Napoleonic - to do great things. The method of getting there was of less importance.
- Richard Jay.
Gladstone, when asked in extreme old age why he had clung to public office so long, replied in surprise, "Why, don't you know? To keep Mr Chamberlain out, of course."
- Richard Jay.
Explore-Parliament.net: Advanced Category Search
Keyword Categories:
_Artist_Tweed
_Politician
_Man
_Person
_Object_Sculpture
_Object_Artwork
_Object_Portrait
_Chamberlain