Charles James Fox (1749-1806)
© 2007 Armchair Travel Co. Ltd. - This page may be used for non-commercial purposes ONLY!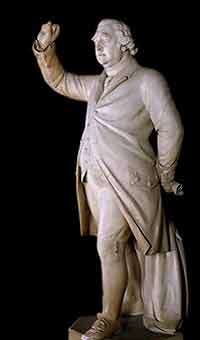 [ Play Narrated and Animated Movie ! ]
[ Virtual Tour ] [ Main Topics Index ]





He seems to have the particular talent of knowing more about what he is saying and with less pains than anybody else - his conversation is like a brilliant player of billiards, the strokes follow one another, piff, paff.
- Georgina, Duchess of Devonshire, in E. Lascelles, Charles James Fox.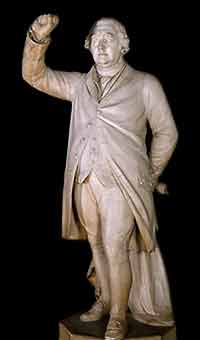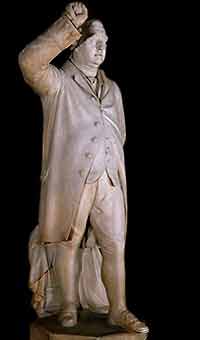 Additional Information on
Charles James Fox (1749-1806)

Charles Fox was the third son of the first Lord Holland, a Whig politician. He entered Parliament in 1768 at the age of nineteen, probably obtaining his seat through his father's influence. Within two years he was given office as a junior Lord of the Admiralty. Fox held other minor posts in the government of Lord North (1770-1774) until the king had him dismissed because of his open sympathy for the American colonists. Fox soon dismissed his Tory bias and moved over to the Whig party. Before long he had become one of the main Whig leaders and orators.
Following the fall of Lord North's ministry (1782), Fox was appointed as Foreign Secretary in Rockingham's cabinet. However, he resigned later the same year when Rockingham's power was lost. In 1783 Fox and North were made Secretaries of State under the Duke of Portland. Theirs was a highly successful working relationship, but the ministry fell once more when the king intervened against a bill they were attempting to pass. Because of George III's hostility to him, Fox did not hold political office again for more than twenty years (he was part of the opposition).
In 1806 Fox was appointed as Foreign Secretary in Grenville's ministry. In this position he tried unsuccesfully to negotiate a peace treaty with Napoleon, but is credited with abolishing the slave trade (legislated in 1807). However, Fox's health had been undermined and he died the same year. In fact, throughout all his lengthy political career, Fox had only held high office for less than two years.
Although Fox was a perfectly competent political administrator he is probably best remembered for his liberalisation of the British system. He believed that it was only fair for a Prime Minister to be chosen if voted in by the majority of the party, rather than it be the sovereign's choice. This actually became law in the nineteenth century.

QUOTATION
He was not a political adventurer, but a knight-errant roaming about in search of a tilt, or, still better, of a melée; and not much caring whether his foes were robbers or true men, if only there were enough of them.
- Sir George Otto Trevelyan, The Early History of Charles James Fox.
Explore-Parliament.net: Advanced Category Search
Keyword Categories:
_Artist_Baily
_Politician
_Man
_Person
_Object_Portrait
_Object_Artwork
_Object_Sculpture
_Fox