William Murray, 1st Earl of Mansfield (1705-1793)
© 2007 Armchair Travel Co. Ltd. - This page may be used for non-commercial purposes ONLY!


[ Play Narrated and Animated Movie ! ]
[ Virtual Tour ] [ Main Topics Index ]





Sir, you may as well maintain that a carrier, who has driven a pack-horse between Edinburgh and Berwick for thirty years, does not know the road, as that Lord Mansfield does not know the law of England.
- James Boswell, Journal of a Tour of the Hebrides.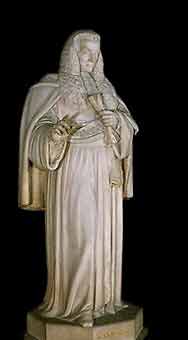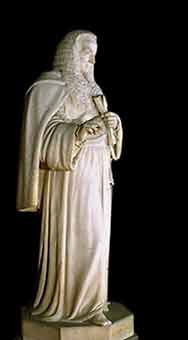 Additional Information on
William Murray, 1st Earl of Mansfield (1705-1793)

William Murray was the son of David, 5th Viscount Stormont - from a Jacobite family. In 1727, on graduating from Oxford, he defeated William Pitt (the Elder) in a competition to write a Latin poem on the death of George I. Thus began his lifelong rivalry with Pitt. In 1730 he was called to the Bar, and began to frequent a debating club where he learnt to discuss the finer points of constitutional law whilst drinking champagne. Using his family connections, Murray rapidly got into practice in Parliament and argued a case before the Lords in 1732. He soon gained a following - mainly due to his eloquence of speech. It has been said that his sprightly wit was second only to that of Pitt.
After Walpole's fall, Murray was made the King's Counsel and Solicitor-General. He continued this office when Pelham ascended to the premiership, and proved his worth in the Commons through his speeches in the case of Habeas Corpus, the Jacobite insurrection. In 1743 he was presented with the freedom of Edinburgh, for his services to the city and its people. By 1747 Murray was acknowledged as leader of the House of Commons. In this position he was accused by his rivals of siding with the Jacobites, and although the claims were unfounded, Pitt used this against him at every turn. On the death of Pelham, Murray became Attorney-General to Newcastle's administration, and for the next two years he defended his party almost single handedly against the ferocious attacks of Pitt.
In 1756 Murray was made Baron Mansfield, and was sworn of the Privy Council. He took his seat in the Lords, and although he declined the offer of the Lord Chancellorship, he was made Chancellor of the Exchequer. In 1770 he acted as Speaker for a while, and in 1776 was advanced to an earldom, as the Earl of Mansfield. In 1778 he refused to attend Pitt's funeral or pay any tribute of respect in the debate on the Bill for pensioning his posterity.
By this point in Murray's political career his views and ideas were being much ignored in Parliament and he had acquired many opponents. In 1780 his carriage windows were smashed as he travelled through London, and his house in Bloomsbury Square was ransacked and burned. All he had ever written and read was destroyed. He closed his political career with a major speech on the Corrupt Practises Bill in 1784.
Ill health led him to resign in 1788, and he devoted his last days to horticulture, and studying classics. He died in 1793.

QUOTATIONS
My desire to disturb any man for conscience sake is pretty well known and, I hope, will be had in remembrance.
- On himself, in Bonamy Dobrée ed., Anne to Victoria.
Explore-Parliament.net: Advanced Category Search
Keyword Categories:
_Object_Sculpture
_Object_Artwork
_Object_Portrait
_Artist_Baily
_Peer
_Man
_Person
_Politician
_Mansfield