John Somers (1651-1716)
© 2007 Armchair Travel Co. Ltd. - This page may be used for non-commercial purposes ONLY!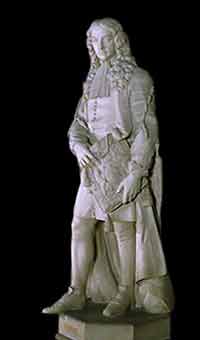 [ Play Narrated and Animated Movie ! ]
[ Virtual Tour ] [ Main Topics Index ]





He had all excellent qualifications [for political office] except virtue.
- Johnathon Swift.



Additional Information on
John Somers (1651-1716)

John Somers was the son of an attorney who fought on the side of the Parliament during the Civil War. After studying law, Somers was called to the Bar in 1676, and during his pupilage was introduced to many leading Whigs. In 1688 he was elected to Parliament and after only 10 days was appointed chairman of the parliamentary committee set up to draft the Declaration of Right. Even if not necessarily the author of the declaration, Somers is noted to have played an extremely instrumental part in the negotiations with the Prince of Orange. Somers was appointed as Solicitor-General in 1689, and later in the same year was knighted. He was actively involved in the trial of Titus Oates, and the prosecution of the Jacobites.
In 1692 Somers became the Attorney-General, and in 1693 made the Lord Keeper of the great seal. In the following year he took his seat on the woolsack as speaker for the House of Lords, and was soon elevated to the position of Lord High Chancellor of England. In 1695 he was given the title of Baron Somers of Evesham, and took his seat in the House of Lords.

QUOTATION
He was the life, the soul, and the spirit of the party.
- Charles Spencer.
Explore-Parliament.net: Advanced Category Search
Keyword Categories:
_Object_Sculpture
_Object_Artwork
_Object_Portrait
_Peer
_Man
_Person
_Politician
_Artist_Marshall
_Somers