Henry Grattan (1746-1820)
© 2007 Armchair Travel Co. Ltd. - This page may be used for non-commercial purposes ONLY!


[ Play Narrated and Animated Movie ! ]
[ Virtual Tour ] [ Main Topics Index ]





Grattan, after all, was no great thing - full of wit and fire and folly - more failure than success in his antithesis, and his piety and religious cant was offensive, as, after all, whatever may be its merit in an individual, it is only used in a speech for the worst of purposes.
- H.G. Bennett, in The Creevey Papers.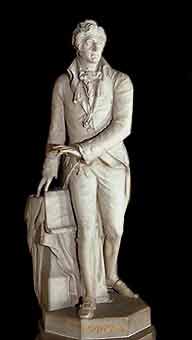 Additional Information on
Henry Grattan (1746-1820)

Henry Grattan was born in Dublin, a descendent of English settlers. He was admitted to the Irish Bar in 1772, and within three years had become a member of the Irish Parliament. He was an accomplished orator, and quickly became a supporter of reform. In 1779 the British government granted his demand for 'free trade for Ireland'. By 1782 Grattan had also acquired the right for Irish Parliament to issue its own legislation without the consent of the British body.
Although Grattan was a Protestant, he campaigned fiercely for the rights of the Roman Catholics in Ireland who were banned from voting. British resistance to reform increased during the 1790's and so in 1797 Grattan retired from political office. He had forseen the dangers of a Catholic revolt, and after repeatedly trying to warn the government (who were not prepared to listen) he retired just one year before its outbreak.

QUOTATION
The Irish Protestant can never be free until the Irish Catholic has ceased to be a slave.
- Himself, Who's Who in History, Vol V. 1789-1837.
Explore-Parliament.net: Advanced Category Search
Keyword Categories:
_Object_Portrait
_Object_Artwork
_Object_Sculpture
_Artist_Carew
_Politician
_Man
_Person
_Grattan