John Bright (1811-1889)
© 2007 Armchair Travel Co. Ltd. - This page may be used for non-commercial purposes ONLY!


[ Play Narrated and Animated Movie ! ]
[ Virtual Tour ] [ Main Topics Index ]





... Always ready for a chat and a fulmination, and filling up the intervals of business with 'Paradise Regained'... his opinion on men and things ... is strong, clear, and honest, however one-sided. But he flies off provokingly into pounds, shillings, and pence when one wants him to abide for a little among deeper and less tangible motives, powers and arguments.
- Caroline Fox, Letter to Lucy Hodgkin, 1861.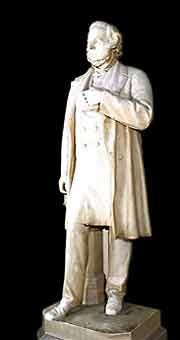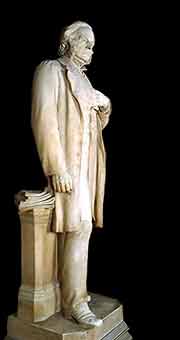 Additional Information on
John Bright (1811-1889)

John Bright was an English radical and Quaker politician who is said to have been one of the most eloquent speakers of his time. At a young age he established a reputation for speaking on such subjects as temperance, and in 1841 joined the Anti-Corn Law League with his lifelong friend Richard Cobden. The two men campaigned ardently for the repeal of the taxes on imported grain. In 1843 Bright was elected to Parliament as the Liberal MP for Durham city, then Manchester and later Birmingham.
At once, Bright began campaigning for electoral reform, and this saw him leading the fight to repeal the Corn Laws. He was an ardent opposer of Palmerston's aggressive foreign policy, particularly when concerning colonial expansion, and especially over the Crimean War. Speaking on this subject he is quoted to have said, 'The angel of death has been abroad throughout the land; you may almost hear the beating of his wings'. Bright served under Gladstone as President of the Board of Trade between 1868-1870 and Chancellor of the Duchy of Lancaster 1873-1874. He shared Gladstone's belief in the necessity for moral principles behind politics, but finally broke with Gladstone in 1885 -1886 over the issue of Home Rule for Ireland.
During the last years of his life Bright became increasingly concerned over the future of British politics, which he believed to be declining rapidly. He died in 1889 after suffering a lengthy illness.

QUOTATION
He is the only man in public life who has risen to eminence without being corrupted by London Society.
- H. Asquith, in R.B. Haldane, Autobiography.
Explore-Parliament.net: Advanced Category Search
Keyword Categories:
_Object_Sculpture
_Object_Artwork
_Object_Portrait
_Politician
_Man
_Person
_Consort
_Bright