William Pitt, the Elder, 1st Earl of Chatham (1708-1778)
Whig Prime Minister 1766-1767
© 2007 Armchair Travel Co. Ltd. - This page may be used for non-commercial purposes ONLY!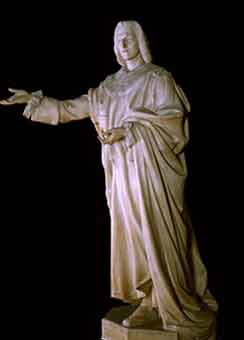 [ Play Narrated and Animated Movie ! ]
[ Virtual Tour ] [ Main Topics Index ]





The atrocious crime of being a young man I shall attempt neither to palliate nor to deny.
- Chatham's Speech of 1741 against Robert Walpole.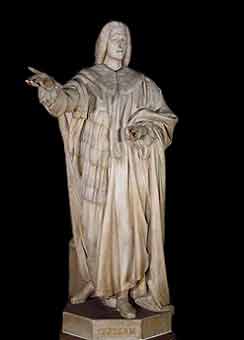 Additional Information on
William Pitt, the Elder, 1st Earl of Chatham (1708-1778)
Whig Prime Minister 1766-1767

Chatham's political career began when he entered Parliament in 1735 as the representative for Old Sarum - a borough controlled by his family. Chatham was an accomplished orator and as the leading spokesperson for the opposition he attacked Robert Walpole at every turn. Chatham's eloquent manner was seen as a force to be reckoned with. He was an extremely commanding figure with piercing hawk-like eyes, and was always prepared with an answer to everything.
When Walpole failed to provide the aggressive leadership needed to control the war with Spain, Chatham aroused the political pressure needed to bring his downfall. Hence Walpole resigned in 1742. Chatham felt the war with Spain was being badly conducted, but his ideas for improvement were consistently disregarded. Before long, Britain was at war with France as well - a measure of which Chatham approved because he saw France as Britain's arch enemy. However, he felt the tactics used were all wrong and Britain should fight at sea, not on land. As defeat followed defeat Chatham soon gathered parliamentary support.
By 1756 the Seven Years War had broken out, and once again Chatham made a frenzied attack on the House deploring the army's tactics and the pointless warfare to defend George II's 'despicable electorate'. In a masterful speech Chatham silenced the House by stating - 'I am sure I can save this country, and nobody else can'. Later the same year Chatham was finally made a Secretary of State and gained responsibility for the direction of the war. By the following year his popularity was at its peak and he became half of a highly successful administration with the Duke of Newcastle (Prime Minister). Chatham boldly attacked the French Empire, enlarging the size of the Navy and dispensing with all foreign troops in favour of British forces. There followed a series of remarkable victories - Britain conquered Canada, the French West Indies, French trading posts in West Africa and destroyed French power in India. Chatham made an alliance with Frederick II of Prussia and together their forces fought on until France was ready for peace.
In 1760 the political situation changed when the British successor George III took the throne. The King distrusted Chatham and negotiated a peace treaty with France, ignoring Chatham's advice to attack Spain. In turn Chatham resigned (1761) and Spain attacked Britain. In 1763 peace was officially declared.
For the next four years Chatham was out of office and both physically and mentally ill. The rest of his career was marked with political frustration. In 1766 the king reluctantly asked Chatham to form an administration, and he became the new Prime Minister. However, his Cabinet was a disaster. After accepting a peerage and moving to the House of Lords Chatham immediately lost the popularity of the people but he was too ill and exhausted to defend his cause, culminating in a nervous breakdown. He resigned from his post in October 1768.
Despite his ill health, Chatham remained in politics but collapsed whilst delivering a speech in the Lords in April 1778. He died one month later.

QUOTATIONS
I must sit still... for when I am up, every thing that is in my mind comes out.
- T.B. Macaulay, Chatham, Edinburgh Review, January 1834.
Explore-Parliament.net: Advanced Category Search
Keyword Categories:
_Object_Portrait
_Object_Artwork
_Object_Sculpture
_Peer
_Man
_Person
_Politician
_Consort
_Artist_MacDowell
_Chatham