Sir Robert Walpole, 1st Earl of Orford (1676-1745)
Whig Prime Minister 1721-1742
© 2007 Armchair Travel Co. Ltd. - This page may be used for non-commercial purposes ONLY!


[ Play Narrated and Animated Movie ! ]
[ Virtual Tour ] [ Main Topics Index ]





He had a heightened awareness both of the world and of men. From this sprang both his exquisite taste and finesse in human relations. He could live outside his own character. He possessed empathy; an intuitive quality which, of course, could err, but more often brilliantly clarified a common situation.
- J.H. Plumb, Sir Robert Walpole.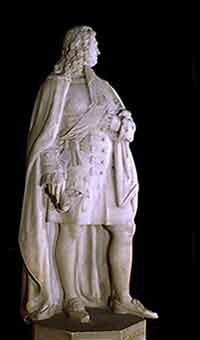 Additional Information on
Sir Robert Walpole, 1st Earl of Orford (1676-1745)
Whig Prime Minister 1721-1742

Robert Walpole was the son of a former Whig member of Parliament. Though third in line to his father's inheritance, his elder brothers died in the 1690's and Robert inherited the family estate, at the age of twenty four. He abandoned his proposed career in the church in order to follow his political ambitions, and he is generally regarded as Britain's first Prime Minister.
In 1701 Walpole entered Parliament and soon became known as the main Whig spokesperson. When the Whig's came to power in 1708 Walpole was made Secretary at War, but in fact his duties seemed to encompass everything, as he came to be the main channel of communication between Queen Anne and Parliament, and manager of the Commons. However, in October 1711 the Tories gained the majority and Walpole was dismissed. He was tried by the Tories who accused him of corruption and committed him to the Tower. He was eventually released in July 1712 and re-entered the Commons in 1713.
When King George I ascended the throne in 1714 the Whigs regained power and Walpole was made Paymaster-General and Leader of the House of Commons. Soon after, he was also made first Lord of the Treasury and Chancellor of the Exchequer. When the king gave up his attendance in Parliament, Walpole became both chairman and Whig leader. Due to considerable parliamentary conflict, Walpole resigned in 1717, but continued his influence in the Commons as part of the opposition. He returned to office in 1720 as Paymaster-General once more.
1720 was a year of financial crisis. An attempt to convert part of the national debt into the stock of the South Sea Co. resulted in fierce investment and hence an inevitable crash came when the price of stock escalated way above its realistic value. Members of Parliament were accused of manipulating the value of the shares, and Walpole's chance of restoring his former credibility came at last. He skillfully managed to protect the government from public exposure and protected the Whig leadership. In April 1721 he was reappointed as Chancellor of the Exchequer and first Lord of the Treasury.
Walpole was now widely accepted as Britain's first 'Prime' minister and remained in this position until 1742 - the longest reigning premier in history. He introduced a sinking fund to help reduce the national debt, and successfully consolidated Whig power. Walpole desperately strove for peace for his government and for the country, and managed to keep it, although it could be argued that some of his tactics were somewhat underhand and unruly. He even managed the transition from one king to another without too many problems. Walpole had expected to have been replaced after George I's death, however he charmed the new king, George II and was in turn re-appointed. On establishing good relations with the new king he was presented with No.10 Downing Street - the official residence of British prime ministers ever since. The late 1730's marked the height of Walpole's political career.
Eventually, opposition developed within the Whig faction and crises outside it served only to hinder the situation. A trade dispute with Spain forced Walpole to announce the outbreak of war in 1739, and it was opposition to this war led to his downfall. He resigned in February 1742. In the same year Walpole was given the title Earl of Orford and a pension of £4,000. Taking his seat in the House of Lords, he continued to be politically active until his health deteriorated and he died in March 1745.

QUOTATION
Profuse and appetent, his ambition was subservient to his desire of making a great fortune. He more of the Mazarin than of the Richlieu. He would do mean things for profit, and never thought of doing great ones for glory.
- Lord Chesterfield, Letters and Characters.
Explore-Parliament.net: Advanced Category Search
Keyword Categories:
_Politician
_Man
_Person
_Consort
_Peer
_Object_Portrait
_Object_Artwork
_Object_Sculpture
_Artist_Bell
_Walpole