Matilda of Boulogne (1103-1151)
© 2007 Armchair Travel Co. Ltd. - This page may be used for non-commercial purposes ONLY!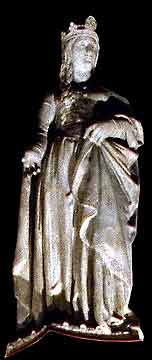 [ Play Narrated and Animated Movie ! ]
[ Virtual Tour ] [ Main Topics Index ]





Matilda, wife of Stephen of Blois, was driven to fight a war against her husband's Aunt who had captured and imprisoned him.

Additional Information on
Matilda of Boulogne (1103-1151)

Matilda was the daughter of the wealthy and cultured Count of Boulogne who permitted her to marry, for love, the extraordinarily handsome and charming Stephen of Blois (whose mother was the daughter of William the Conqueror). Stephen was not expected to inherit the throne (as he had an elder brother) and so they settled down with his uncle, Henry I at the English court in 1125. However the newly widowed Empress Matilda, who had been married to the Holy Roman Emperor Henry V of Germany, returned to England and clearly had designs on Stephen. He rejected her, with difficulty, but she kept reappearing and after Stephen had seized the crown after the death of his uncle she sided with Robert of Gloucester and a civil war began.
Stephen was eventually captured and Matilda went on bended knee to ask the Empress for his release, naturally she was refused but this had the effect of steeling Matilda to fight back, and with the help of the Londoners she captured Robert and exchanged him for Stephen. The war dragged on until Robert died in 1147 and the Empress gave up and returned to France. To celebrate the peace, such as it was, Matilda and Stephen founded the Abbey at Faversham in Kent.
She was worn out by the struggles, however and died soon afterwards in 1151, being buried at the Abbey. Her son died two years later and Stephen died grieving for her in 1154, their other children having been disinherited and the crown given to Henry II.
Explore-Parliament.net: Advanced Category Search
Keyword Categories:
_Queen
_Royal_Family
_Woman
_Person
_Consort
_Object_Portrait
_Object_Artwork
_Object_Sculpture
_Artist_Thames_Bank_Workshop
_Matilda_of_Boulogne