Lower Waiting Hall
© 2007 Armchair Travel Co. Ltd. - This page may be used for non-commercial purposes ONLY!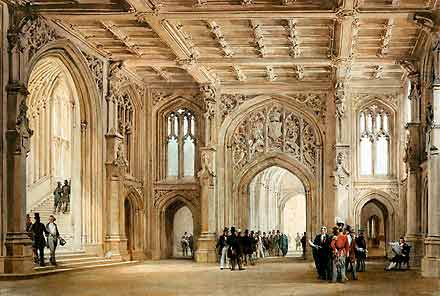 [ Play Narrated and Animated Movie ! ]
[ Virtual Tour ] [ Main Topics Index ]





This watercolour of 'The Lower Waiting Hall' by Thomas Allom was painted in 1851, soon after the New Palace had opened. The Hall was not yet complete, as the stained glass windows and floor tiles are missing.
Allom also painted two watercolours of the waterfront elevation of the New Palace, which were given to Tsar Nicholas I on his visit to London in 1844.
Explore-Parliament.net: Advanced Category Search
Keyword Categories:
_Artist_Allom
_Object_Painting
_Object_Artwork
_Setting_Westminster
_Setting_England
_Lower