The Great Fire of 1834
© 2007 Armchair Travel Co. Ltd. - This page may be used for non-commercial purposes ONLY!


[ Play Narrated and Animated Movie ! ]
[ Virtual Tour ] [ Main Topics Index ]





On the night of the 16th of October 1834 a great fire ravaged the Palace of Westminster. The fire started as the result of the furnace (which heated the House of Lords) being overstoked at the time they were using old wooden tally sticks for the purpose. The workmen responsible had left the cellars for the night and the fire was discovered too late, although it was noted that the floor of the House of Lords was surprisingly hot that evening and there seemed to be much smoke about, and a smell of burning.
In spite of the efforts of a large group of officials and bystanders the fire raged throughout much of the site, burning everything in its path. Thanks to super human efforts, Westminster Hall was saved, but St. Stephen's Chapel was almost completely destroyed and for much of the Palace, only the outer walls were left standing. The Cloisters shown here were badly damaged, but the roof of Westminster Hall, seen in the background, was left intact. What was not destroyed by the fire was wrecked by the water used in the attempts to extinguish it.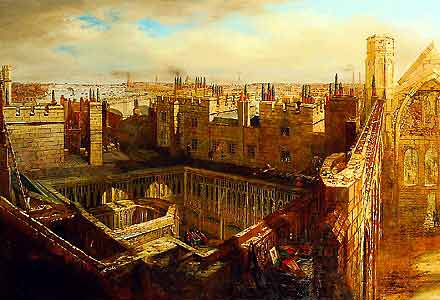 Explore-Parliament.net: Advanced Category Search
Keyword Categories:
_Setting_Westminster
_Setting_England
_Event_Historical
_Fire