Floor Tiles
© 2007 Armchair Travel Co. Ltd. - This page may be used for non-commercial purposes ONLY!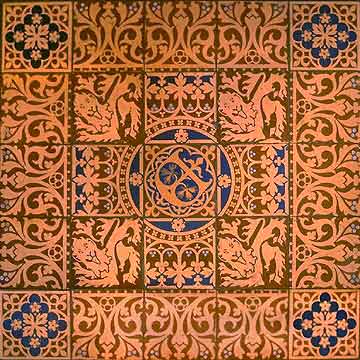 [ Play Narrated and Animated Movie ! ]
[ Virtual Tour ] [ Main Topics Index ]





The Minton Encaustic Tiles in St Stephen's Hall, were, as elsewhere, designed by A.W. Pugin. He thought these examples particularly successful, for he wrote to Minton in 1852:
I declare your St Stephen's tiles the very finest done in the tile way, really vastly superior to any ancient work. In fact they are the best tiles in the world!
- Pugin
Proof, if proof were needed, that Pugin did not see his endlessly fertile Gothic inventions as being mere imitation of medieval originals.
Explore-Parliament.net: Advanced Category Search
Keyword Categories:
_Object_Fitting
_Artist_Pugin
_Floor