Windows
© 2007 Armchair Travel Co. Ltd. - This page may be used for non-commercial purposes ONLY!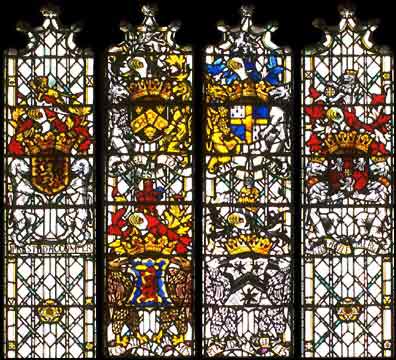 [ Play Narrated and Animated Movie ! ]
[ Virtual Tour ] [ Main Topics Index ]





The original stained glass was of kings and queens of England and Scotland, designed by Pugin and made by Ballantyne and Allen. (This was the one occasion when the Fine Arts Commission managed to prevent Barry and Pugin from using their favourite Hardman, and succeeded in running a tender.) This glass was lost in the war - all save a trial window which Pugin ordered of William the Conqueror, which is displayed in the Lords' Dining Room. The present glass here was installed in the 1950s by Carl Edwards, and shows coats of arms of peers of the period 1360-1900.
Explore-Parliament.net: Advanced Category Search
Keyword Categories:
_Object_Fitting
_Artist_Edwards
_Topic_Coats_of_Arms
_Window