George V (b.1865 r.1910-1936)
© 2007 Armchair Travel Co. Ltd. - This page may be used for non-commercial purposes ONLY!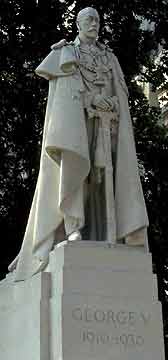 [ Play Narrated and Animated Movie ! ]
[ Virtual Tour ] [ Main Topics Index ]





This majestic statue of George V in full State dress, was sculpted by Sir William Reid Dick R.A. It is made of Portland stone and was erected in Old Palace Yard in 1947.
George V, born in 1865, became King on the death of his father Edward VII - as his elder brother, the heir, had died unexpectedly. It was George who gave up his family's German name - adopting that of 'Windsor' - as a patriotic gesture. He was one of the few monarchs in Europe who managed to keep his throne after the destruction of World War I.

Thank God, I am an optimist, and I believe in the common sense of the people of this country.
- George V.

Additional Information on
George V (b.1865 r.1910-1936)

George was the second son of Edward VII and had not expected to inherit the throne - he only became heir on the death of his elder brother Prince Albert Victor. George was short in stature with blue eyes and a clear voice. He had a happy childhood, a successful marriage and rewarding family life. George was a sailor like William IV, and was rather shy, tending to keep away from ceremony (unlike his father). However, he did take his duties very seriously.
In 1917 he gave up his family name of Saxe-Coburg-Gotha and replaced it with Windsor after Windsor Castle. This was done as a patriotic gesture to his country because his original name was German, and Britain and Germany were now at war. Although George had German blood he fully supported the government's decision to go to war. He did not approve of his cousin's (the Kaiser) militarist gestures. In the four years of warfare George visited his troops more than 450 times and awarded more than 50,000 medals for service. In 1920 he unveiled The Cenotaph in Whitehall, London - erected to commemorate those who died in the First World War.
The post-war years were just as turbulent. There was war in Ireland, a general strike, and in the 1930's, most of the population had become poverty stricken due to the economic crisis - The Great Depression. Throughout these difficult years George maintained the dignity of the monarchy and went to meet those who were suffering hardship, even giving up part of his own income. Between 1928 and 1929 George had a serious illness called septicaemia - blood poisoning of the lung. After operations and much convalescence he finally regained his former vigour in late 1929.
George was genuinely surprised at the extent of his popularity and the celebrations of his Silver Jubilee in 1935. He died peacefully the following year, being one of the few monarchs in Europe who had managed to keep their throne after World War I.

QUOTATIONS
Thank God, I am an optimist, and I believe in the common sense of the people of this country.
- George's letter to a friend, the Dictionary of National Biography.
How is the Empire?
- His last words, as reported by The Times, 21st January 1936.
Bugger Bognor.
- Apocryphal last words, on being told by his doctor that he would soon be well enough to visit Bognor Regis.
My dear old friend George V always told me that he would never have died but for that vile doctor [Dawson of Penn].
- Margot Asquith, Autobiography, 1936.
Grandpa England.
- Elizabeth II's name for him when she was a child.
He had a gruff, blue-water approach to all human problems.
- Duke of Windsor, A King's Story.
Explore-Parliament.net: Advanced Category Search
Keyword Categories:
_King
_Royal_Family
_Man
_Person
_Object_Portrait
_Object_Artwork
_Object_Sculpture
_Artist_Reid_Dick
_George_V_