The Death of John of Gaunt
© 2007 Armchair Travel Co. Ltd. - This page may be used for non-commercial purposes ONLY!


[ Play Narrated and Animated Movie ! ]
[ Virtual Tour ] [ Main Topics Index ]





This painting, 'The death of John of Gaunt', by James Northcote, depicts the last moments of John of Gaunt, Duke of Lancaster. In Shakespeare's Richard II, the old man delivers his famous last words, beginning:
This royal throne of kings, this sceptred isle
This earth of majesty, this seat of Mars...
- John of Gaunt
And he ends by upbraiding the king, Richard II, for his conduct of the throne. The painting shows his last words, as he is carried offstage to die.
Live in thy shame, but die not shame with thee!
These words hereafter thy tormentors be.
- John of Gaunt
The painter, Northcote, lived from 1746 to 1831, and worked for some years as assistant to Sir Joshua Reynolds. This picture was painted in 1793.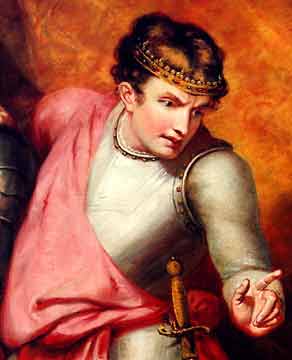 Explore-Parliament.net: Advanced Category Search
Keyword Categories:
_Man
_Person
_Royal_Family
_King
_Object_Painting
_Object_Artwork
_Event_Historical
_Setting_England
_Artist_Northcote
_Gaunt