The Serjeant at Arms
© 2007 Armchair Travel Co. Ltd. - This page may be used for non-commercial purposes ONLY!


[ Play Narrated and Animated Movie ! ]
[ Virtual Tour ] [ Main Topics Index ]





The role of the Serjeant at Arms first became prominent as the mounted bodyguard of the early Plantagenet Kings, probably when Edward I formed a bodyguard of twenty Serjeants in 1279. By the 15th century they were no longer just bodyguards of the sovereign's escort, but were figures of considerable importance in the administrative structure of the country. The main administrative body of the House of Commons in this day was centred around the Speaker, the Clerk and the Serjeant.
During the evolution of Parliamentary practice, the Mace has come to be recognised as the official emblem of the Serjeant at Arms, and proof that he is acting as the sovereign's agent. In later centuries the Mace became the Serjeant's 'warrant' of power, and the Serjeant's acquired the right to take offending Members into custody, and thus keep order within the House.
Most people recognise the Serjeant when in full court dress which he wears during ceremonial occasions such the State Opening of Parliament. His ceremonial duties are to attend the Speaker, carrying the Mace, on her entering and leaving the House; and to introduce messengers from the Lords at the Bar of the House of Commons. However, on a daily basis he, or one of his deputies, also has to be present in the Chamber the whole time that the House is sitting.
Today, the Serjeant is accountable both to the Speaker and to the House of Commons. He is responsible for all security within the building, and some 400 staff. Many of the corresponding duties in the House of Lords are carried out by Black Rod.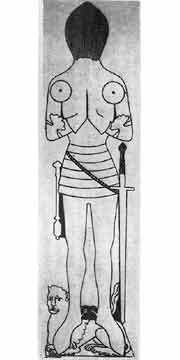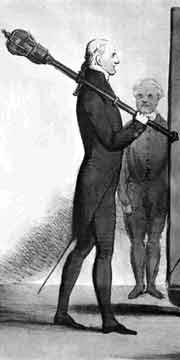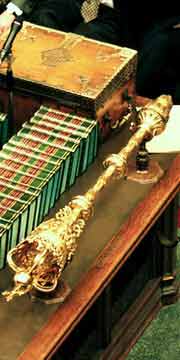 Additional Information on
The Serjeant at Arms

The department of the Serjeant at Arms is very large, having some 400 staff (because it also includes those of the Parliamentary Works Directorate). The Doorkeepers are responsible for dealing with disturbances in the Galleries, and the Police and Security Officers of Palace are also under the Serjeant's instruction. As one can imagine, the responsibility for controlling possible terrorist attack is immense, and rigorous security practices are needed because of the amount of Strangers who are admitted each day. The Serjeants office controls the issue of tickets to admit the Press and visitors to the House on a daily basis.
The Serjeant is also the Housekeeper of the Commons and so is responsible for administering the staff who service and clean all areas. He is also responsible for the Parliamentary buildings which lie outside the main parameters of the Palace, and in the case of New buildings, for ensuring that the new rooms and their furnishings meet Members' requirements.
It is Black Rod who performs many of the corresponding duties to the Serjeant for the House of Lords.
Explore-Parliament.net: Advanced Category Search
Keyword Categories:
_Man
_Person
_Serjeant